Back in October, Google announced that it was rolling out a new mobile-first index (what does that mean? Read our blog about it here) in response to the majority of searches now being carried out on mobile devices. With the evolution of smartphones and tablets and the increasing usability of the internet on mobile devices, more and more online activity is going handheld. Google is sending out a clear message: go mobile, or go home. And to help drive this mentality-shift, they are giving mobile search ads some serious real estate in the search results.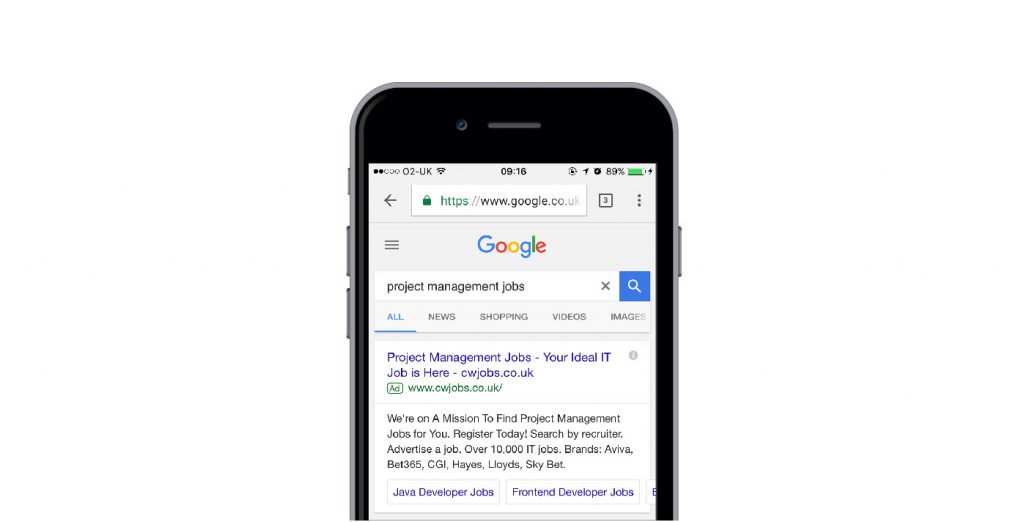 For many searches on mobile, ads dominate the first 'fold'
and often include lots more content and clickable links than organic results
So, what does this mean for small businesses? We are constantly advising our clients on the importance of their online presence on mobile devices, and even convincing our web-developer partners to prioritise UX for mobile devices. Whereas previously, people would use mobile devices to browse content but reserve the purchasing stage for a desktop or laptop, more and more transactions are happening on devices. This isn't restricted to small consumer decisions either – you can even apply for a mortgage on your phone if you want to. As a small business, you should be finding ways to improve your online presence on mobile devices.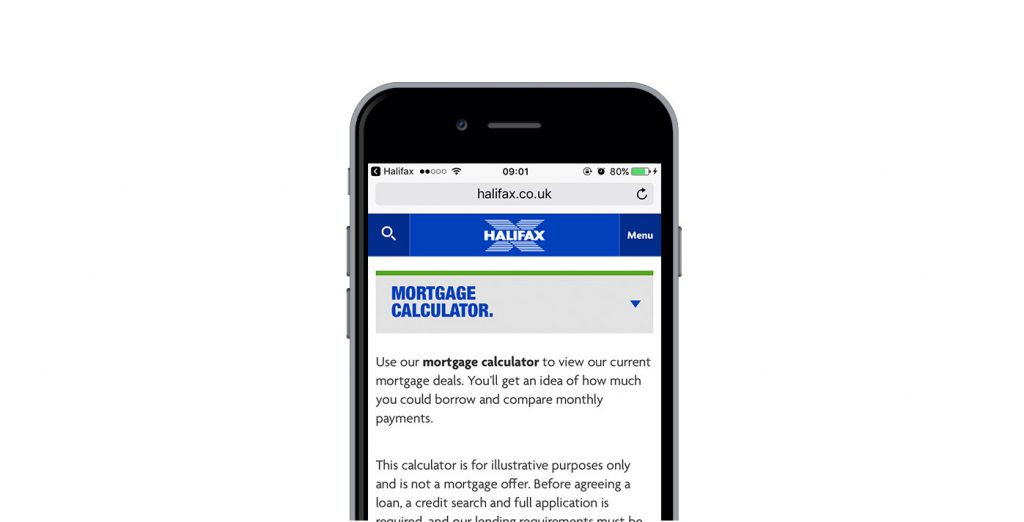 Many banks are now realising that people are less inclined to come
into a branch and would rather deal with their finances online
This is where Google can help; if you don't already rank organically for key search terms on Google mobile search, then you won't know the benefit of being at the top of the search results. The click-through rates for the first, second and third organic positions are around 23%, 14% and 10% respectively (source) – this is the percentage of people who click on website links in the search results. Nowadays, it can take several months to achieve those top results for competitive searches organically, and your website will likely need some extensive optimisation for mobile UX. However, using Adwords means that you can be at the top of the search results immediately, and we've seen click-through rates on some of our mobile campaigns holding a steady 16%, higher than being second in the organic results. This is partly a result of mobile search ads taking up around two screens' worth of the search results (i.e. you have to scroll down twice to reach organic results).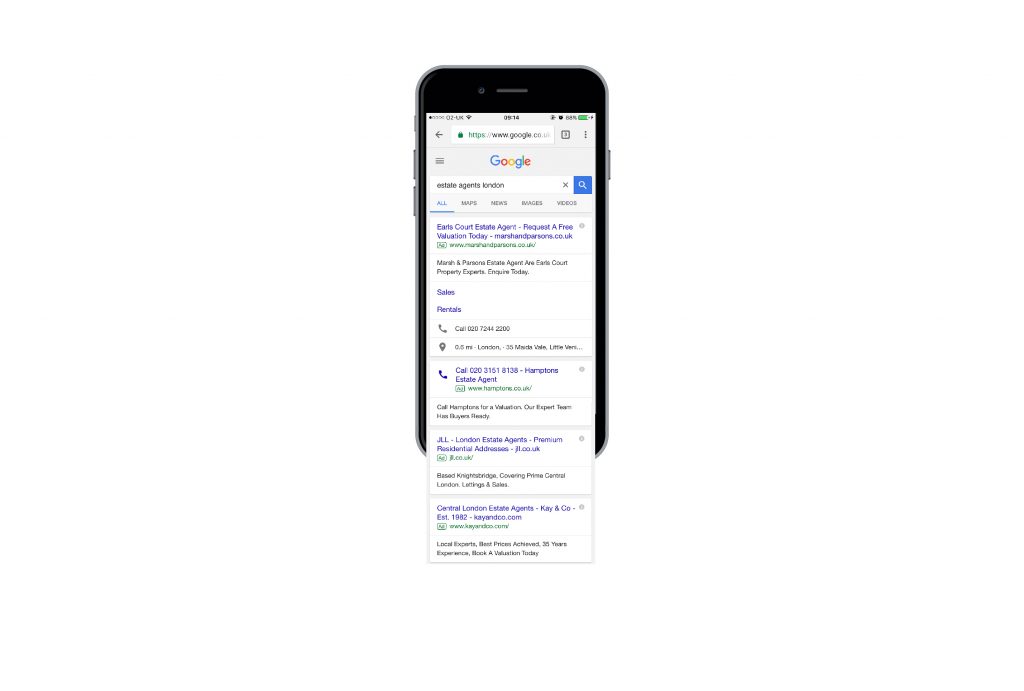 Mobile search ads tend to take up around two screens'
worth of the search results
It's no secret that Google are giving their search ads this real estate to encourage more businesses to use Adwords. And here we are advising you to use Adwords, too (I promise we haven't sworn an allegiance to the mighty Google). But the simple fact is, for many businesses Adwords can really work. User trust in search ads is increasing, hence why more people are clicking on them. This is because Google does a pretty good job of making sure that the websites whose ads appear in searches are good quality, relevant and not spammy, meaning people are finding these ads increasingly useful. And with recent changes, such as interactive and tappable sitelinks, mobile ads display much more information to the user than organic results.
We are expecting the click-through rates for mobile search ads to continue increasing – in part due to growing trust and also as Google continue to expand their real estate in search. It's true that for some industries this is less important; typically, a B2B website will see a high percentage of their traffic coming from desktop, whereas a B2C website would see a higher percentage on mobile. However, we still advise prioritising mobile UX as this benefits your SEO and will also help future-proof your website. Although mobile internet isn't the future, it's very much the present.
Shameless self-promotion
If you want to find out more about how mobile search ads can benefit your business, you can get in touch with us and speak to one of our Adwords experts. Regardless of your industry, it's likely that an Adwords campaign will have a positive impact on your business. We can also boost your first campaign with an Adwords voucher, which increases your advertising budget.
HCW.