This week, we talk about how to get Google reviews for your business and star ratings from clients, and why it's worth doing.

Recently, we wrote an article emphasising the importance of having a strong presence in Google Maps' local search if you want to beat your competitors and improve your local search visibility. In addition to having a clearly defined outreach strategy and regular posting on Facebook, having a well-managed Google My Business profile with user ratings and reviews is absolutely key. A positive reputation is extremely powerful when it comes to marketing both online and offline. So SEO aside, online reviews are like gold dust for businesses – whether local or not. They're extremely influential and can shape your business more than any Google Ad will. That's why we've decided to give you some insight into how to get Google reviews for your business.
If you're still not convinced on the importance of getting Google reviews for your business, check out these statistics from Bright Local: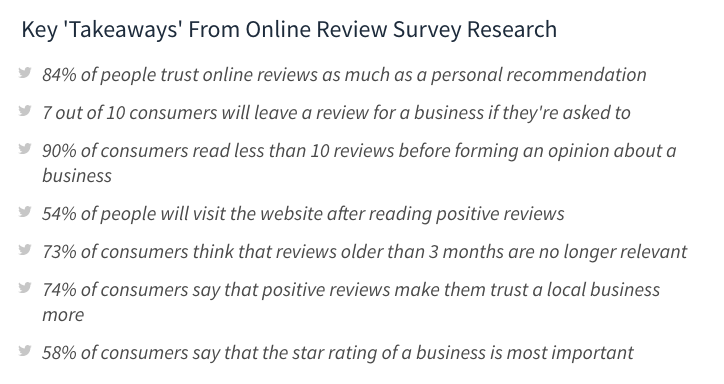 If you're interested, read the full study to further explore exactly how consumers read and use online reviews.

So, now you know why you should invest more time and energy into reputation marketing you need to learn how to get google reviews for your business. Here are 5 simple tactics to try:
1. ASK
If you don't ask you'll never get. So the first thing to try is, quite simply, kindly asking your customers or clients to leave reviews.
When thinking about how to get Google reviews for your business, there are several ways to ask – from sending out emails or utilising social media (more on this later) to asking in-person the next time a client compliments you. Bear in mind that customers are more likely to give feedback straight away. So, if you have an eCommerce website, for instance, try adding a direct link to your GMB profile on the "Thanks for you order!" page of your website, and let customers know how much you'd appreciate their feedback.
2. Make it easy to leave reviews
If you're going to ask for reviews, it's crucial you make it as easy as possible for clients to leave them. Any glitch or slightly time-consuming element will put even the most well-intentioned person off. So, create a direct link that will land clients or customers in the right place to leave a review on your Google My Business profile. To create a link, you'll need to get the Place ID for your business. Follow this link to find out how to get your place ID.
3. Incentivise (but never bribe!)
Ever felt like only people with negative things to say bother leaving reviews online? That's because, most of the time, only impassioned (and often pedantic) people motivated by anger or frustration can be bothered to research ways to leave reviews. But you can learn from this. The key element here is motivation. You need to incentivise clients to leave you a review.
One way to incentive clients to leave online reviews is by running exclusive offers. For instance, monthly giveaways where clients can enter by giving feedback online. You can choose a winner at random by using Google's random number generator and reward them with unique prizes, freebies or discounts.
Remember, reviews are only valuable when they are unbiased, honest and useful, so we're absolutely not advising you to bribe clients for good reviews or buy star ratings. Be clear that your offer is for those taking the time to write a review, not for writing a "good" review.
4. Social Media
Social media platforms are the best way to both ask and incentivise clients for online reviews. You can easily share the link with your followers to encourage them to write reviews and rate your business, as well as the perfect place to promote offers and competitions for clients who do.
5. Reply to reviews
You shouldn't just be thinking about how to get Google reviews for your business, but how to say thank you too. Interacting with your clients online is the best way to build their trust. Something as simple as a response to a review can turn a satisfied client into a fully-fledged evangelist for your business. Sending out personalised postcards, discount codes or freebies are other great ways to say thanks. Shouting about them on your social media channels also lets other people know how much you appreciate your clients' input.
In order to respond to reviews, you'll need to verify your business first. Keeping an eye on your reviews also means you can quickly pick up on and flag any comments you believe violate Google's review policies. The reported review will then be assessed and possibly removed from your Google My Business listing.
So there you have it, 5 simple tips on how to get Google reviews for your business. If you still need to

set up Google My Business

in the first place, you can read our handy guide or

get in touch

to discover how we can get your business ranking in the local search pack.