We were pretty gutted that the Google Maps Pacman feature was only for April Fool's day earlier this month and not a permanent thing. However in many ways, when it comes to local search, Google Maps can be viewed as a game if (like us) you are in the realm of digital marketing. Here's how you win.
Most local businesses are now aware that visibility in search engines is one of the key ways to attract customers, establish themselves and therefore generate more revenue – even if you're a brick and mortar business. Now, having a strong presence in Google Maps is becoming equally crucial too.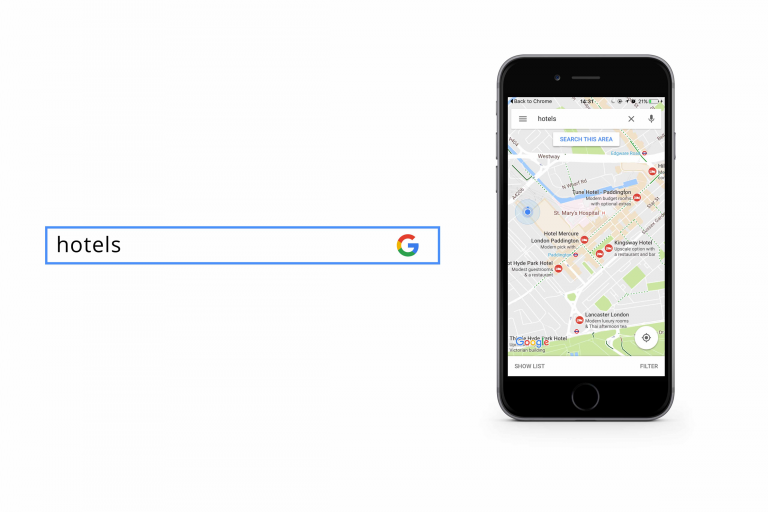 In 2016, the Google Maps app overtook the Google Search app, coming fourth place just below Facebook, Messenger and YouTube in terms of unique visitors (with over 95 million users). And even when you are local searching on desktop or mobile, Google Maps often visually dominates results pages. What's more, Google's recent investment in adverts in the Local Pack, including Google Maps, further evidences the growing importance of focusing on the potential traffic coming from Maps.
On the flip side, concerns have been raised lately about Google Maps spam, as a study by University of San Diego, California, revealed that thousands of fake listings (which direct traffic to fraudulent schemes) are added to Google Maps every month. Most of the examples were found in the US, so local businesses here in the UK shouldn't be too worried about these fake listings. What's more, Google actively attempts to combat this abuse of maps by sending out verification postcards and works hard to prioritise the most relevant, high-quality and trustworthy businesses for its users.
So, rather than sitting around scrutinising Google's loopholes and reading about the possibility of fake listings being prioritised on Maps, it's time to start working on improving your local search visibility. It's time to let Google know that it should prioritise you. That is the only way to win on Google Maps. The question is, how?
1. Google My Business
Make sure your Google My Business profile is up to scratch. You can find out how to do this here.
2. User ratings and reviews
While it's not yet clear just how big a role reviews take in rankings right now, it is clear that Google is incorporating a quality element into its algorithm. This means that businesses with more reviews and lots of positive ratings are starting to come up trumps.
So now, rather than targeting keywords like 'best coffee in [your area]' you need to actually have the best coffee in your area. And even more importantly, Google needs proof of this. Encourage your customers to leave ratings and reviews by offering discounts or special offers in return. Promote these deals via your social media channels to spread the word.
3. Regular posting on Facebook
Believe it or not, Facebook matters to Google. Local Search blogger, Wesley Young found that regular content and interaction on Facebook is taken as a key signal by Google of a local business's relevance. And the more relevant Google deems you to be, the more likely you are to outperform your competitors in Maps.
What's more, for a lot of brick and mortar businesses, your Facebook page will appear on the first page of SERPS – often above your actual website. So it's definitely worth spending some time keeping your page updated regardless.
4. Keep it local
Don't be tempted to set your sights too broadly. Always keep your location at the forefront of your digital marketing strategy. From selecting key search terms to your blog content, outreach strategy and link building, if you're a local business, always keep it local.
5. Come up with an outreach strategy
Just like a review or rating, gaining links from local online publications is just another vote of confidence to Google. Much how a local business should aim to have a strong presence in their local community, if you want to improve your visibility on Maps you'll need to have a strong online presence. To do this, you need a solid outreach strategy to push your content out into your online community.
Reaching out to local government or community organisations that support businesses is a great place to start. In addition, bloggers, guides and other publications are usually desperate for fresh content, so don't be afraid to approach them. Just make sure you have something valuable to offer.
In addition, you can use a tool like Moz onsite explorer to find out what your local competitors are doing, to earn similar links yourself (you'll need to create a free account to do this).
If you'd like some help being found in local search, get in touch.