Welcome to the first of our Click Hub Hacks! A new series of easy-to-follow 'how to' guides, aimed at helping small businesses and start ups improve their online presence. To get things going, we'll be showing you how to set up Google My business.
Have you ever wondered why, when you Google the coffee shop next door, they have a lovely listing with lots of pretty pictures, 4 stars and friendly reviews, while your business' listing is distinctly lacking in information? Or worse, not listed at all?
The answer is quite simple, they're probably using Google My Business. Google My Business is a nifty tool for any local business, as it massively improves your online visibility. And even if you're not local, Google My Business is still a great way to take control of and manage your Google listing. You can also interact with customers, tell them your business' story and track Google Analytics. The best things about Google My Business?
1. You have complete control, so you can choose how your business information appears across Google, including Search and Maps.
2. You can interact with your customers by posting photos and responding to reviews.
3. You can gain valuable information about how your customers searched for your business, where they came from and how many people called your business directly from the phone number in your Google Listing.
4. It's super straightforward.
5. AND it's completely free!
So if you want to know how to set up Google My business, just follow these 6 simple steps!
1. Go to: https://www.google.com/business/ and click "Start Now". You'll need a Google+ Account to sign up.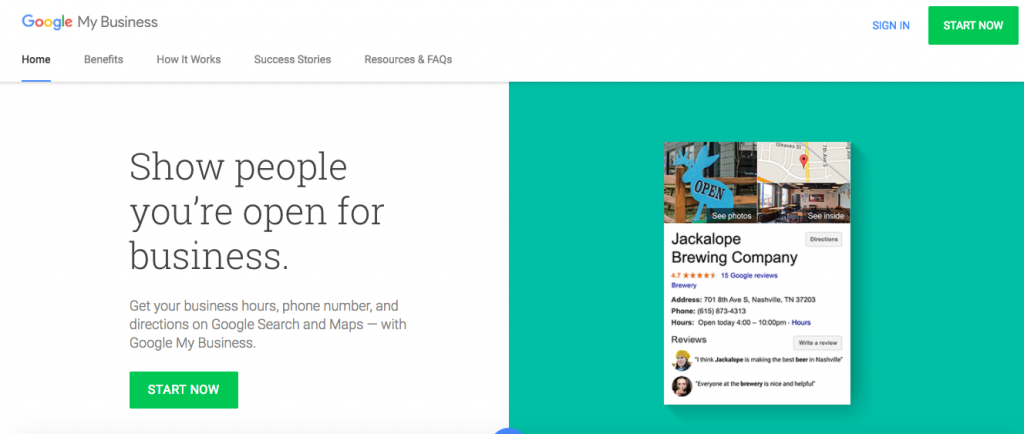 2. Add your business info, triple checking that everything is accurate. If your business doesn't have a physical address, how to set up Google My Business changes a little. There is an option to select "this business serves customers at their locations". If you tick this, you will have to fill out the service Areas and Location Settings, and you can choose not to have your address listed.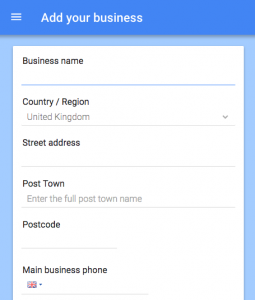 3. Check "I am authorised to manage this business" and click continue.
4. Google will want to verify your account before you go any further. Usually, this is done by sending a postcard to the listed address, with a verification code. When you have this, you'll need to enter it in the blue banner at the top of the screen. Then, follow the prompts to complete verification.
5. Once you've verified your account, the fun part can start. You should see this info bar, where you can customise your listing by filling in all the information about your business.

Make sure you include:
Your website
Phone number

Adress

Opening Hours

Business Category

A clear and concise summary of your business

A range of high quality and interesting photos (including interior and exterior shots, product photos, team photos, your logo etc.) You can choose a profile picture and cover photo from these
6. Familiarise yourself with the other features on your dashboard. Don't ignore them, they're there to help you!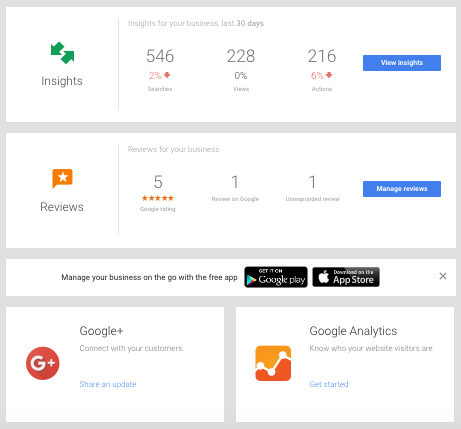 – The 'Insights' Tab will give you a wealth of information about your visibility, user engagement and audience demographics.
– The 'Reviews' Tab allows you to keep track of and respond to reviews. You can thank customers for taking time to share their comments and – should you get any bad reviews – GMB allows you to flag them and Google will take appropriate action.
– Google Analytics is another completely free tracking tool that gives you statistics on your website traffic and audience. Watch this space, we'll be covering how to set up Google Analytics with WordPress in the near future!
– The Google + Tab allows you to share updates, photos, links or videos straight to your Google+ account from your dashboard.
So, there you have it. How to set up Google My Business in 6 simple steps! We promise it won't take long. Follow this guide and you'll have created a new way to attract customers to your store or website, and gained valuable insights into the way they interact with your business. Worth it.