Google uses more than 200 major ranking factors in their algorithm and – like any great magician – they haven't revealed all of their secrets. If they did, people would probably take advantage of the information to rank poor-quality sites. Google has revealed a few, however, and while some have been proven, others are mere SEO speculation or still shrouded in mystery. But one factor we do know a fair amount about is Domain Authority.
So, what does the term mean? How can it affect your websites ranking? And what can you do to improve it? Here are the 5 main things you need to know.
1. Let's start with the first question – what is Domain Authority?
Domain Authority is a quantitative measure of your website's authority or power. SEO superstars, Moz, developed the metric. A common misconception is that Domain Authority is a single factor that affects your Google ranking. However, in actual fact, Domain Authority is based on a number of factors that allow Moz to calculate the overall strength of your website. We can then use this to predict how well your website will rank in the search engines. The calculation is scored on a 100-point logarithmic scale, and takes into over 40 different signals including link data, age, popularity and size as well as spam and trust scores.
2. How is it different to Page Authority?
In the past, Google's PageRank was arguably the most popular tool for measuring the quality and authority of a specific page. However, it was removed from the public's toolbox last year after dying a slow and painful death. Now, Moz's Page Authority is probably the best measure of the strength of an individual page. It is possible to have a higher page authority than domain authority, and vice versa. While both are important to your search visibility, generally speaking you should prioritise Domain Authority as it's a more long-term investment. Improving your Domain Authority should have an impact across all of your pages anyway. As always, though, it also depends on your overall goal. If your aim is to compete for a specific high-value keyword, for instance, you may want to target a single page's authority for a while.
3. How does Domain Authority affect my Google ranking?
At the end of the day Google is just another business and they want to give their customers the best experience possible. This means leading them to the most trusted and relevant sites possible. Because the metrics used to determine a good Domain Authority are designed to work in the same way Google's algorithm works to identify trustworthy websites, having a higher score generally correlates with having a higher ranking. Again, although your domain's link metrics account for a significant part of Google's ranking algorithm they are not the only factor. It's very common for websites to outrank other websites with higher Domain Authorities than their own. Domain link metrics are still considered to be the most important ranking signal though.

4. How do I find out my Domain Authority?
This one's easy and completely free. Just head to Moz's Open Site Explorer. Enter your URL and voila. If you're signed up to Moz for free then you can access basic metrics, but the paid version will give you more insight into how your scores were calculated. The average Domain Authority is between 40 and 50, while anything between 50 and 60 is considered pretty good. Over 60 is considered excellent and sites rarely achieve higher – unless you're someone like Facebook which has a perfect 100, even with all the fake news stories…
Just remember that while Moz's metrics are useful and do count, they definitely don't tell the whole story and aren't 100% accurate. For instance, to establish your Domain Authority Moz will take into account the number of inbound links to your site. However, you may notice a discrepancy between this information and the information coming from elsewhere, like Search Console.
5. How can I improve my Domain Authority?
Your #1 priority for Domain Authority is earning good quality links back to your website.
The popularity and trustworthiness of a domain is, in part, measured by the number of inbound links and the quality of the websites that they are coming from. These links tell Google that your website has useful information that is worth linking to, sharing and talking about. This is why link building strategies like content marketing, blogger outreach, press releases and social media are so important. It's also vital to regularly evaluate your links, and get rid of any bad 'spammy' backlinks that could be impacting on your own spam score. If you have one of these toxic links, your first step is to contact the linking party and politely request they remove the link. If they refuse, or don't reply, you will have to disavow it in Search Console.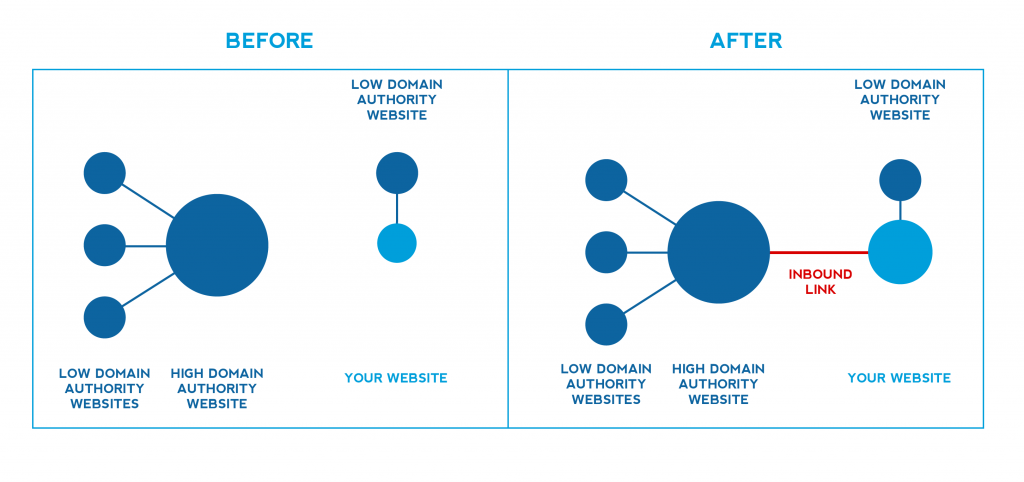 #2 Wait a while
This is the easiest and most frustrating thing you can do to improve your Domain Authority. With great age comes great Domain Authority, as the old saying goes. Contrary to popular belief SEO is not magic and doesn't happen overnight. It takes time to improve your Domain Authority and you need to be in it for the long game. While you're waiting, make sure you're keeping the site updated with fresh linkable content.
The link metrics that produce your Domain Authority score are just some of the hundreds of ranking factors Google takes into consideration. However, they can have a pretty big impact on where you position in the search engine results pages.
FSM.
If you have any further questions or need help with an SEO or digital marketing conundrum then please get in touch.