Last Friday saw John Lewis' annual Christmas advert (the release of which has become something of a national event) hit televisions and Social Media news feeds across the country. As expected, the whole of the UK stopped to watch it – and then watch it again.
The central message of this year's ad was, of course, the growing problem of loneliness in the elderly in this country; John Lewis partnered with Age UK (check them out) to raise awareness and hopefully source some much-needed donations to help older people share this Christmas, and the foreseeable future, with a friend.
There are a lot of other things we can take away from this year's ad though: a sense of wonder, maybe a teary eye and almost certainly an excitement for the Christmas season, to name a few. However, as webmasters and digital marketers, we can also learn a lot about effective video content!
John Lewis has given us a masterclass in how to effectively use video marketing content. They created a video with one clear message that keeps potential customers engaged and understanding their brand; showing us how effective (and vital) clarity in content is. They also displayed how you can differentiate yourself – by appealing to hearts and not wallets, John Lewis has set themselves apart from other big, product pushing brands – you too can improve your brand awareness by emphasising your USPs in your video content.
Lewis prioritised quality over quantity, spending their budget on an outstandingly executed, visually stunning advert, with its own bespoke audio (a celebrity cover of Oasis' Half the World Away), rather than spreading lower quality adverts throughout the year. This shows us how effective a memorable, quality video can be for any marketing campaign – it's worth the cost. You don't have to spend £7m on a CGI penguin or go viral to millions of viewers worldwide, but having a single article of top quality content can do far more for your online presence (and your ROI) than several cheaper productions. You can see this is the case by the increased interest year on year in the John Lewis advert itself.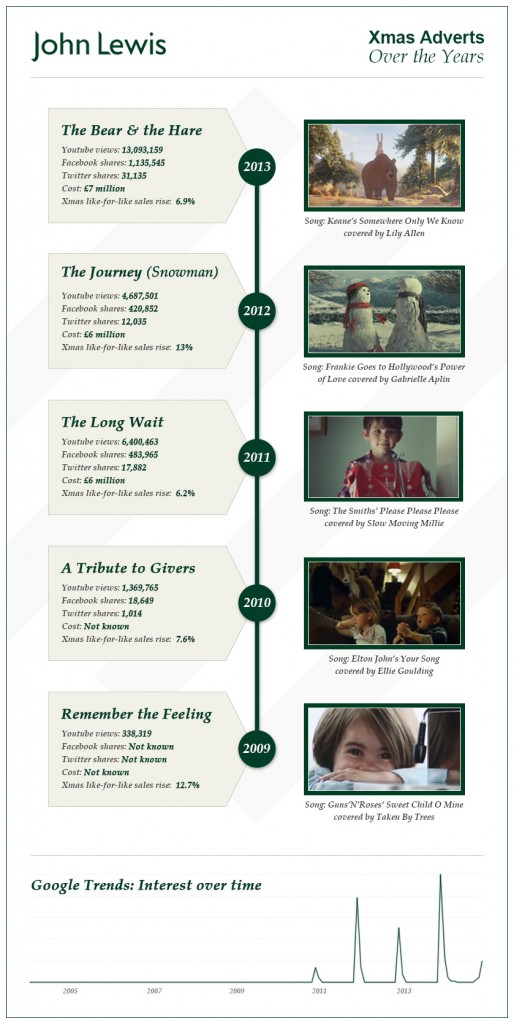 Finally, John Lewis showed us the value of timing in the release of a video. A huge amount of market research will have gone into the "when" of their release, and rightly so. By releasing their video online at 9am on a Friday, they took advantage of the rush hour when mobile internet usage is often highest. What's more, as much as it might make business owners and employers shudder the world over, Fridays are one of the highest Social Media engagement days of the week, as people slow their work down in anticipation for the weekend. Better still, by building buzz on a Friday, that buzz can continue to build over the weekend while the majority of people have free time to access Social Media and watch television. This isn't a suggestion that you release all of your videos at 9am on a Friday, rather take into consideration market research for your industry, and release your content at the optimum time.

For more information on how to optimise your video or written marketing content, or any other expert advice to bring in more business in the build up to Christmas, please don't hesitate to get in touch with us at The Click Hub today. Our friendly team of digital marketing experts are on hand to help – if they're not busy watching the John Lewis advert again!