By now, you've probably heard about the most recent update to Twitter. As a trial, they have doubled the character limit to 280 per tweet for a small group of users. If this is news to you, then you probably haven't been spending much time on the social media platform! It seems that this trial increase has divided users, sparking outrage among some and applause among others, but why is this exactly? The more characters we have to play with, the more opinions we can voice, trends we can jump on and news we can follow, right? You would think so, but it's not quite that straightforward.
In an attempt to help users 'easily express themselves', Twitter is hoping that an increase in the character limit will ultimately see an increase in the number of tweets overall. The aim is to encourage people to take more time crafting tweets, formulating better responses and creating more engaging content for the platform and its users. If nothing else, changing the character limit should ease the frustration surrounding tweeting in different languages. If you are posting in Japanese, Chinese, or Korean then 140 characters will more than suffice. Tweet in English, Spanish or French, however, and you'll likely find yourself having to carefully edit your thoughts in order to stay within the specified limit. By upping the allowance to 280, with the exclusion of Asian languages, Twitter is levelling the playing field, giving everyone the same, relative space to express themselves. Just take a look at the tweet below, written in three different languages: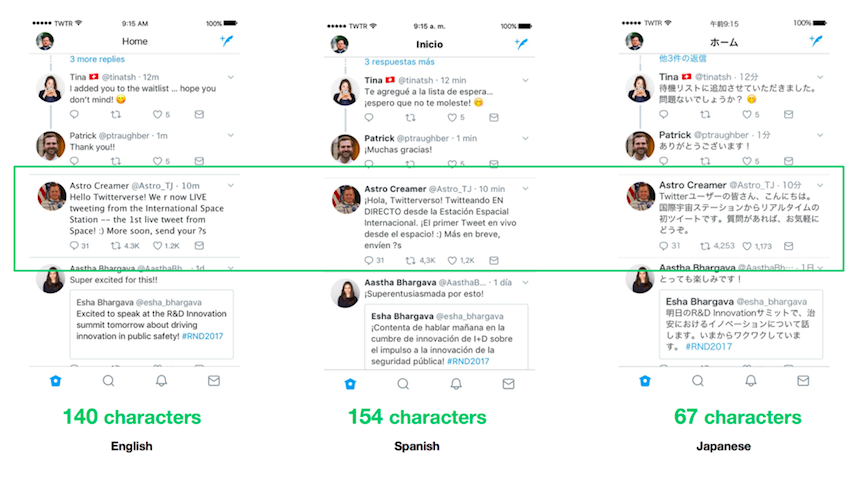 (Source: Twitter's Blog)
That all sounds pretty innocent to me, but there are two sides to every coin…
Doubling the allowance may seem pretty radical, but did you know that Twitter once considered increasing the limit to a whopping 10,000 characters? 280 doesn't seem quite so staggering now, does it? In any case, some people appear simply up in arms about it, taking to Twitter to vent – doing so mostly in 140 characters. If you ask me, by doing this, Twitter is precariously balancing between success and failure. The social media platform isn't enjoying great stability, with their fourth-quarter loss of $167m (more than $70m compared with last year), a reported 8% revenue loss from advertising and lastly, the threat of micro-blogging platform, Sina Weibo looming ever closer.
Let's take a closer look: Sina Weibo, with its focus on being the best social media experience in China, now claims to have around 340 million users, that's 12 million more than Twitter. And this growing success has only highlighted Twitter's shortcomings – is this trial character increase merely an attempt to mirror Sina Weibo? Whether it yields positive results or not, it no doubt sends the message that Twitter is starting to lag behind. The challenge facing many, if not all, social media platforms, is being able to strike the balance between staying true to their foundations while keeping afloat through innovating and evolving. Step away from the quippy posts and brevity that Twitter is known for and it risks losing its following, revenue and reputation. Fail to adapt and innovate, however, and other platforms such as Sina Weibo will continue to crop up, grow, and leave Twitter in the shadows.
But what do you think? You may soon have a generous 280 characters to tell us.
FSM