Following Google's latest algorithm update, Possum, you may have noticed some large fluctuations in your rankings for local search. The update, which has placed an increased emphasis on the searcher's location in an attempt to produce more accurate results for the user, has come as a pleasant surprise to many local businesses.
What is Possum?
In a nutshell, the update appears to:
Put increased importance on the physical location of the searcher, so that users searching from different areas may encounter different results.
Be more acute when it comes to variations between keywords, meaning that abbreviations or alterations of certain phrases may yield different results on SERPs.
Widen the gap between local and organic filters, meaning once again that physical location holds more importance when it comes to local searches.
Filter local results that share the same address, so those who share an office with other people may be subject to filtering.
After analysing the update, sites such as Moz have speculated that, since Possum has yet to fully stabilize, it is likely that Google is still running tests. While this means that we are unable to know the full extent of the impact Possum will have on rankings, we are certainly able to predict the ways in which the update may in fact advantage small local businesses that utilise SEO for Google Local.
How can Possum work in my favour?
It all comes back to the age-old struggle between the Davids and Goliaths of the business world. How can small businesses compete with business giants who have the resources and domain authority to consistently come up trumps in local searches? How do we prevent these big brands from dominating local search queries, when much smaller brands that provide a far better service exist? Perhaps Possum could be a step a step in the right direction…
Often, local brands make the mistake of thinking far too broadly and overlook the importance of updating their Google My Business or creating location-specific pages. However, Possum means that, now more than ever, it is crucial to deploy SEO for Google local if you want to be in with a chance of closing the door on both your local and national competitors.
This means ensuring that your data is accurate and shared properly with the data distributers. You can do this via Google My Business. Information such as address, telephone number, images, reviews, business hours and parking availability must all be correct and up to date, while your deep content is fully optimised with local-specific content and pages that may give you the edge over bigger businesses. This is particularly important for Brick and Mortar Businesses, who arguably have the most to gain from Google's shifted emphasis onto the searcher's location.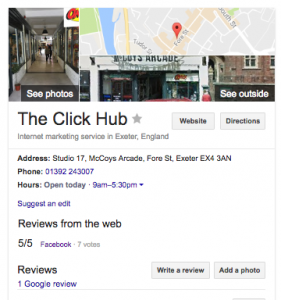 While Possum is yet to settle down, the good news is that, even with the recent addition of Local Search Ads on Google maps, big brands may need to start relying on more than just their size and prominence to secure their position in SERPs, giving those smaller businesses that make SEO for Google Local a priority a fighting chance.
If you want to speak to one of our team about our SEO services please get in touch or have a look at our local search package.
AG.