When it comes to WordPress, it really is what you make it. But with thousands upon thousands of plugins, there is an overwhelming number to choose from. While it's true that the need for a lot of these plugins is determined by the type of website you have, there are a fair few that almost every WordPress site can benefit from.
Below is a list of 5 must-have WordPress plugins to help your website rank better, load faster and much more. Have a read through and let us know what you think. Got any other suggestions? Get in touch to let us know!
When looking at the best WordPress plugins out there, this is one that will undoubtedly come up time and time again. And there's good reason for it, too; essentially, Yoast SEO helps you produce better content by assessing the readability of your writing as well as looking at how best to optimise it for maximum visibility in search results.
It works as a handy reminder for all those easy-to-forget SEO aspects. Yep, I'm talking about the metadata. With a simple snippet preview of how your post or page will appear in search results, the Yoast plugin illustrates exactly why the meta title and description are so important. Without supplying this metadata yourself, the title and description likely won't be optimised with the keyword.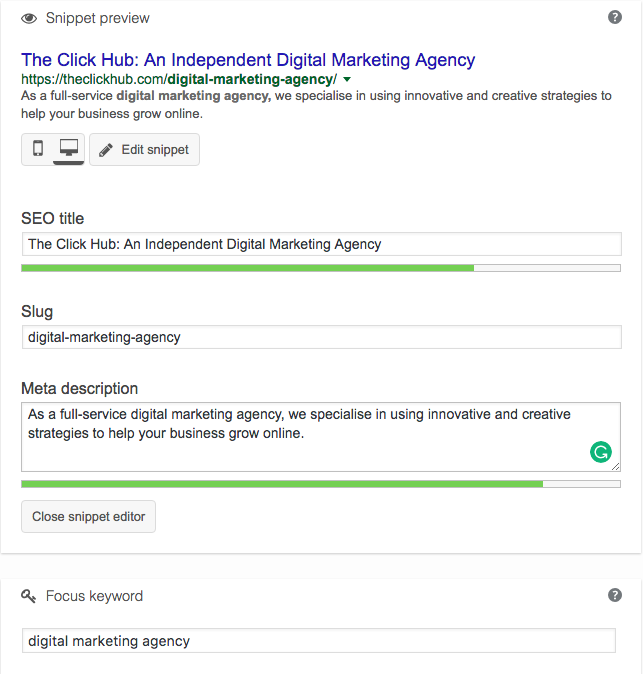 This plugin is all about increasing efficiency and maximising your time. By now, most businesses recognise the importance of having a strong presence on social media, but doing that often means putting in a decent amount of time and effort. The IFTTT plugin, however, lets you create automatic "if this then that" actions. So, every time you publish a new post on your website, you can have this instantly posted to your social channels, too.
It's definitely a good one for WordPress, but it goes above and beyond that, too. In fact, IFTTT can pretty much be used to automate your entire social media. You're welcome!
When it comes to your website, you can't just close your eyes and hope for the best, you need to be proactive and take a close look at how visitors are finding and interacting with your website. To do that, Google Analytics is the ticket. But when it comes to a WordPress plugin to digest and present the analytics, Monster Insights should be your go-to; it gives you all the facts and figures in an easy-to-read format.
The best part is how simple it is to connect your GA account and view the data. So, whether you're an experienced WordPress user or complete beginner, you should be able to get up and running without a hitch.
Another handy one for SEO, this plugin helps search engine giants such as Google and the like index your site. All you need to do is activate the plugin and it will automatically create an XML sitemap. Why do this? Well, a sitemap helps search engine bots (crawlers) view a website's complete structure and retrieve it. What's more, it notifies all major search engines whenever you publish a new post or page. Oh, and did I mention that it's free for both personal and commercial use? Ideal!

Source: WordPress
To be truly successful, your website must do more than just look good, it has to perform well. And part of that performance comes down to the site speed. Let's face it, we can all be a little impatient now and then and if a website doesn't load quickly enough, it can be easy to lose interest altogether. Not to mention the fact that a slower load time will have a negative impact on your search rankings.
With WP-Rocket, you can eliminate a large portion of that unnecessary load time. The plugin works by reducing the weight of your HTML, JavaScript and CSS files through minification. What's more, you should see a boost to your site's load time immediately after installation and set-up!
If you're unsure about your website's current load time, you can run it through WebPageTest for a waterfall view of your pages' load performance, or give Google's Page Speed Insights a whirl. Both will give you a few pointers on how you can optimise your site, too.
FSM.