Top-level domains (TLDs) are nothing new to those concerned about SEO. Historically, TLDs like .com, .gov and .org have ranked better than sub-domains like .co.uk or .gov.uk. In fact, for many people, .com is the be-all and end-all when it comes to the Internet (google.com, facebook.com, youtube.com, twitter.com). So for many years digital marketing experts would advise, where possible, that people registering new domains should go with .com.
Last year, however, we saw the introduction of several new generic top level domains (gTLDs) relating to industry – such as .law, .media and .tech – or location, like .london. In fact, there are now over 700 shiny new gTLDs available for use. But while Google assured users from the beginning that, overall, their systems would treat new gTLDs like any other TLDs, many people appeared sceptical at first. After all, a huge portion of people on the web still see it as a pretty dark and scary place and find themselves easily frightened by anything "non .com". People weren't convinced whether these new TLDs rank well. Even Moz was warning people: "for best ranking results, avoid uncommon top-level domains (TLDs) like hyphens [and] TLDs such as .info, .cc, .ws, and .nam", shaming them as "spam indicators."
Of course, there are certain TLDs that are spam indicators and they can be easily researched and avoided. But in our fear of throwing people off with our supposedly spam-tastic new TLDs, have we actually been missing out on a huge opportunity? Could these new TLDs rank well? Could TLDs have a positive effect of SEO?
It would now appear that opportunities have always been there but no one was really jumping on them because there was no real proof. Websites that dared to be different, using the new TLDs, didn't seem to rank. But this isn't really surprising when you think about it. A site with a new gTLD would either be a new website, which always take longer to rank, or else the result of a complete website migration, which is no small feat. Changing domain names is seriously hard to get right and is fraught with SEO issues so websites usually suffer as a result. They definitely require the assistance of a highly skilled SEO company.
However, if you type 'digital marketing london' into Google today then you're sure of a big surprise…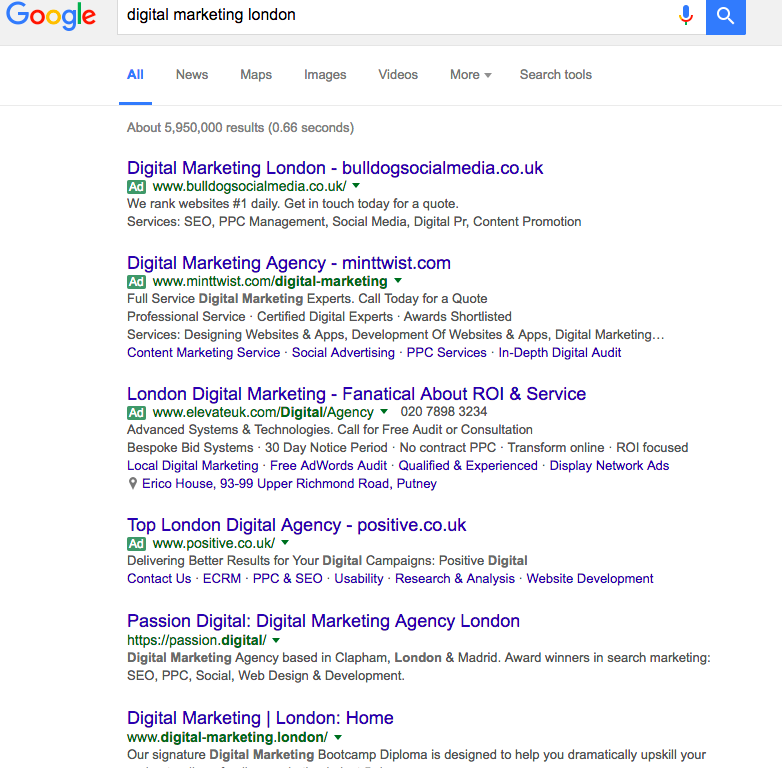 Websites with the TLDs .digital and .london hold position one and two, below the ads! It looks like the risk is finally paying off, as this week we are beginning to see more and more websites with these new TLDs rank well on page one for competitive search terms. We got in touch with Passion Digital, who made the transition to the new gTLD .digital in January 2015. They told us they've held a strong position for this search term for over a year now. Being seasoned SEOs themselves, they clearly got their migration right. More importantly, they also saw an uplift in position following the conversion.
What does this mean for SEO?
If new TLDs rank well for competitive search terms, this comes as pretty good news to us in the world of SEO and it proves that Google wasn't lying to us after all. Good old Google. There are now some examples of gTLDs ranking well since their introduction but the really key thing here is that, as passion.digital have shown, keyword rich gTLDs finally appear to be a viable SEO feature worth exploring. These results mean that websites have the potential for a really keyword rich domain, which could boost your SEO score. And the good news keeps coming because the lack of popularity of alternative TLDs means that a lot of domains won't have been taken yet. What's more, they're currently available for a relatively low price due to this lack of demand.
So who can really benefit?
It may well be the World Wide Web but, in reality, many businesses today aren't looking for a global reach. In fact, Google is actually rewarding those keeping their feet firmly on local ground. For local business, local TLDs can be a wonderful thing. Of course, the quality of the website content always plays into the ranking, but if you're geotargeting people from the area you're based in, you could potentially boost your SEO and get a big pat on the back from Google for being 'hyperlocal'. Just make sure you know what your TLD stands for before you register it. You may think .de is perfect for you Devon business, but Google's going to think you're German, which is nicht so gut.
New keyword rich TLDs will also help those startup and tech sites struggling to make headway in a vastly overpopulated industry. Finding a domain name can be hugely frustrating, but now startups have more options than ever: .software, .tech, .digital… You're like a kid in a candy store. The possibilities are endless!! Well, at least compared to before. It's going to be a hard nut to crack, that's for sure. But it will only take a few big startups to get the ball rolling on these new TLDs.
The .com domain may still be the preferred choice, but for how long? Lets be honest, in addition to potentially being able to boost your SEO with a new gTLD, they just make sense. If these new TLDs really took off, theoretically, people would know what a site is all about just from its TLD, without wasting a click.
If we've got you thinking, "Would a new TLD affect my SEO?" then why not get in touch with one of SEO experts today? We'd love to help!
AG