We've been talking a lot lately about why your business should be advertising on Instagram, so we thought it was about time we gave you a concrete example of a really good Instagram advertising campaign.
I've wanted to write about an effective Instagram advertising campaign for a while now but – perhaps it's to do with the accounts I'm following – I've yet to come across one that's really captured my attention. I've seen several sponsored videos on the platform, however, research suggests that (unlike Facebook) photos still have a higher engagement rate on Instagram and I'm inclined to agree. What I really wanted to give you was an example of a brand effectively using the stories feature as part of a wider Instagram advertising campaign.
Last week, my prayers were answered by Waitrose and a story about watercress.
So what makes Waitrose's Instagram advertising campaign so good?

1. It tells a story

In just 10 clean, simple and gorgeously green images and short clips, Waitrose takes Instagrammers on a journey through the fields of Old Alresford, stopping off in a Waitrose store and finally landing you right in your own kitchen.
In fact, it tells a "100 year" old story, and the story of the people who bring you your delicious watercress. And it is your, watercress, available in your local Waitrose store, so it's your story too. Because – far from the irrelevant messages of advertising past – today the game is all about personalised, humanised and highly-targeted marketing.
Plus, we're all suckers for a good story; it's what makes us human. Why else do you think Snapchat, Instagram and Facebook are all investing so much in story-telling features right now?
2. It displays the product in every single shot or clip

I'm not just talking about the crisp-looking cress. Waitrose has quite cleverly chosen to advertise something that wholly reflects their brand – the thing they're actually advertising in this Instagram campaign.
Firstly, it's green. They didn't choose beetroot, or radish or carrots; they chose a vibrantly green salad. Now, perhaps I'm reading too much into this, but "watercress" even sounds a bit like Waitrose. Think about it. Why didn't they choose Romain Lettuce? Spinach? Kale, even?
What's more, their brand values are all well-represented by the humble watercress leaf: championing British produce, fresh food, healthy living and a greener approach (reducing packaging, waste, CO2 emissions etc.) as outlined on their website. That's #thewaitroseway after all.
I don't know about you, but I don't think I'd get the same message from an aubergine. But maybe that's just me.

3. It doesn't feel like an intrusion; on the contrary, it offers something useful

One of the best reasons to advertise on Instagram is that you're typically engaging consumers in their moments of downtime. You're not interrupting their favourite TV program or butting into a video they were peacefully enjoying online, you're catching them exactly in those moments when they're free for new input.
Far from an intrusion, Waitrose's Instagram story comes across as useful. The final photo in the story doesn't try to sell you on "HALF PRICE" promises or demanding CTAs like "SHOP NOW". The final frame isn't even the one that lets you know you can find some of that mouth-watering, peppery watercress in your local Waitrose store. No, they end their story by offering you something: "recipes and more".
All you have to do is swipe up.
Of course, this does mean leaving the Instagram app, landing on their website, ultimately having to pop to your local Waitrose to buy watercress for the new adventurous recipe you're going to try – as well 10 other ingredients you'll probably need, some cashmere toilet roll and an ostrich egg.

I know, Waitrose does have a tonne of money to pump into its marketing. But what's so fantastic about this example is that it's so very simple. Even with a tiny budget, you could easily model your own Instagram advertising campaign on it.
Oh, and one final tip. Waitrose also advertised their advert with a short video on their actual Instagram page. Just in case you missed it.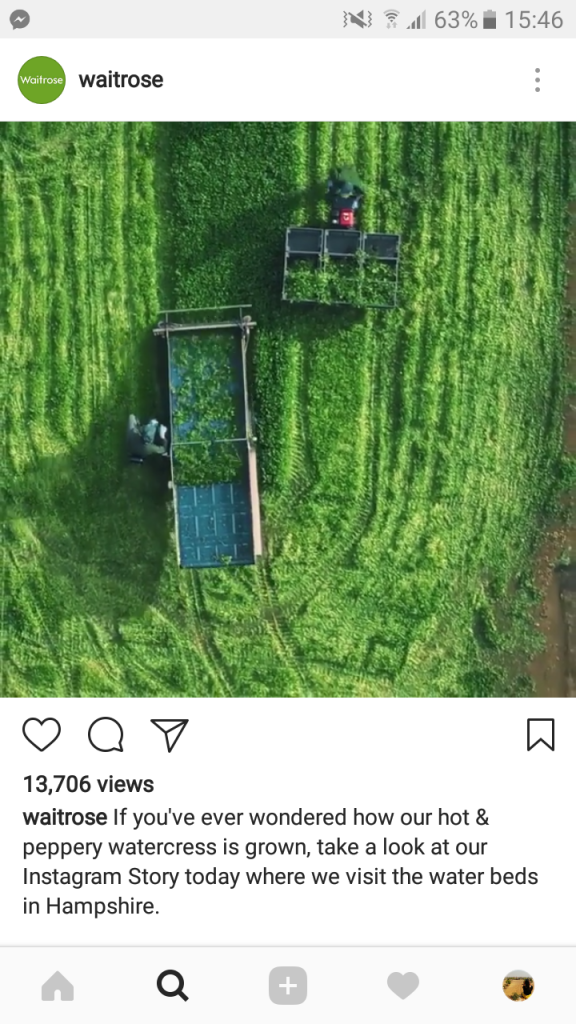 Read more about Instagram marketing here, or get in touch to enquire about our social media management packages.