What is it?
Google has just launched a free new keyboard app called Gboard for iPhones and iPads. It is a custom keyboard with a range of cool features including Gifs, Emojis, Glide Typing and, most importantly, built-in Google search. Gboard installs on your smartphone like most third-party keyboards and works seamlessly across all your apps, not only in messages.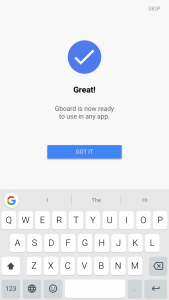 By just clicking on the Google logo in the top left of your keyboard, you can search directly from the keyboard, pull up results and immediately share them. For example, you can search nearby restaurants, news, videos, weather forecast and more.
When is it available?
Gboard is already available in the USA, but have yet to indicate when it is coming out in the UK. The Gboard is already seeing success in the US, so hopefully it will be coming to the UK soon.
Issues and glitches
So far Gboard is only available on Apple devices, not on Android, although Google have said Gboard for Android is in development. Another drawback of the new app is that it is only available in English, however Google have also said that they plan on expanding the keyboard's language features.
The keyboard as a whole has not seen many technical issues. The keyboard doesn't work as well on iPhone apps that are used on iPads, however most apps are optimised for both devices now, making this a minor glitch. Gboard's predictive capabilities have a few drawbacks. They are not as strong as Swiftkey, but Gboard is still pretty reliable at guessing what you're typing. The bigger issue is that Gboard won't access any existing keyboard shortcuts you have, and won't let you set up your own shortcuts. This may be frustrating if you've already set up your own shorthand for the iPhone keyboard.
Data Privacy and Security
Google's privacy policy for Gboard says that the only information it will access from the keyboard is searches and anonymous statistics. What you type and any other data is stored on your device, not accessible to Google or other apps.
This does not prevent people from raising concerns about the security of the new keyboard. The truth of the matter is that there is no way to tell for sure that Google isn't accessing more information. Also, privacy policies can change and Google might opt for more tracking in the future.
Even the searches alone still give Google an incredible amount of information about your private life. Of course, this already happens every time you use Google online, but having it on the keyboard will make the amount of information they access even greater. An issue related to this is that we can't be sure how secure Google's system is, could the data be intercepted, is it stored in a secure manner?
Another concern that arises is that we don't know what Google is doing with the data that they receive, who has access to it, how long they intend to keep it. For some people this isn't a big issue, it is privacy that we've already given up, but for others it is a point of concern.
Advertising
Google has said that they have no current plans around Ads in Gboard. However, Gboard brings Google search to any app, which also means that it could potentially bring Google search adds to any app. For example, if product ads were enabled, while looking for a product on Amazon you might be able to search google for a better deal.
Having 'search' in the keyboard means Google will have more information about customers and could achieve hyper-targeted ads. Google said 'no current plans', which means there is potential for ads to appear on the keyboard in the future.
If you'd like to speak to one of our team about Gboard or any of Google's products – get in touch, we'd love to hear from you!
[mc4wp_form id="1648″]