Buckle up boys, it looks like Google have rolled out a pretty big algorithm update.
From February 7th-10th Rank Ranger's Risk Index reported heightened levels of rank fluctuations on desktop and mobile, peaking on the 9th February at a high-level risk of 97 for desktop and 90 for mobile.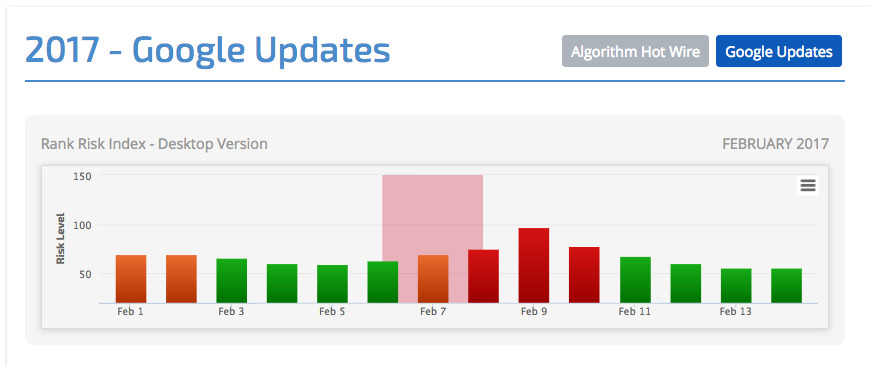 There have been some murmurings in the SEO community about the algorithm update over the last week or so, but Google is yet to comment. Regardless, this looks set to be a big one, with many reporting massive movements and fluctuation in SERPs – both positive and negative. Search Engine Land was quick to speculate on the major ranking event, suggesting it may be linked to Panda. If they're correct, this means that the algorithm update has to do with things like content and site quality versus link factors.
With Google keeping quiet on the matter, though, no one can confirm that the update is related to content quality, link quality or some other change. All SEOs can do for now is look at their rank reports, changes in traffic from Google in their analytics and use other tracking tools to investigate possible outcomes of the update. It's time to investigate and either recover from or rejoice in the rank changes you've seen as a result!
Let us know if you've seen any significant changes in ranking as a result of the update by Tweeting us @theclickhub