In keeping with the rest of the digital world, the challenge of SEO is ever-evolving. With algorithms changing and new approaches been announced, it is important to be reactive and respond quickly to changes in trends and different approaches. That's all well and good, but you can give yourself a real leg-up by avoiding some of the most common SEO mistakes right from the start. After all, some things never change!
You may have already seen our blog post on the SEO mistakes you could be making, but alas – there are more! While it may seem a tad daunting, knowledge is power and the more you know, the better you are situated to improve and grow your website. Take a look at the points listed below to get a better idea of how to tackle your SEO…
Avoid keyword stuffing
We touched on this in our last blog on SEO mistakes, but I think it warrants a little further clarification. It's important to optimise your content with relevant keywords – it's often how people searching for businesses like yours end up on your page – but there is a real tendency to over-compensate and this can be incredibly counterproductive. It can be pretty easy to go keyword crazy from time to time but not only will this not read well, search engines like Google won't exactly be patting you on the back for it.
How do you get around this? It's quite simple really: once you've carried out your keyword research and outlined which search terms you want to optimise the content for, you should aim to use those keywords with careful consideration throughout the copy, remembering to use variety in keyword phrases. It's all about balance!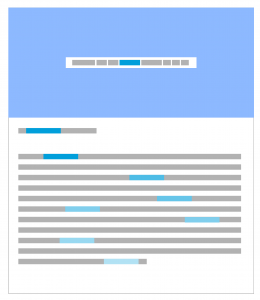 Speaking of which…
Good content isn't always about the keywords
I know I've just been going on about the importance of optimising your content with keywords, but you are allowed to write without including them, too.
Do you ever read a blog and get the impression that all you're reading is the same few words repeated over and over again? Well, if you do then that's probably because you are! While implementing relevant keywords is a good strategy, you should exercise caution. You don't want to deter your readers, quite the opposite in fact! And with engaging content, you're far more likely to draw people in and keep them coming back. That's precisely why we recommend creating a mixture of optimised and non-optimised content for your website.
Google and other search engines are always looking to serve their users with the most relevant information, which is why keyword implementation is necessary. Bearing this in mind, though, as long as your content remains original, high-quality and topic-focused, then the odd piece of keyword-less copy won't have a negative impact.
Don't over-use internal links
Having a strong internal linking structure in place is definitely a win for search engines such as Google, but there is a fine line here. If only it were as simple as linking to your own page over and over again! Content that is flooded with links back to different pages on your website not only looks excessive, it actually weakens the overall effect.
Make the most of high-quality external links
External links give your content credibility. Are you reading this blog and taking my word as gospel? I'm flattered if you are! But ultimately, unless you can see the research that has been done and the sources consulted, you're less likely to trust what is written. More to the point, Google and other major search engines favour websites that provide people with valuable, credible information. Provided they aren't excessive, external links are a great way of demonstrating credibility and reliability.
Just make sure you are only linking to well-ranking websites with a high domain authority and solid reputation. You can make the most of tools available such as the MozBar, which highlights the page authority, domain authority and spam score of the website you're browsing.

Create readable, digestible content
In the age of smartphones and on-the-go technology, information is easily and instantly accessible. The downside of this is the increasing difficulty in grabbing people's attention – and keeping it! That's why having punchy, informative and engaging content is an absolute must. Avoid lengthy paragraphs and try breaking the text up with some images, infographics or videos, too. This makes your content look appealing, approachable and easy to digest – particularly important for those reading on a small screen when they're on the go.
If you'd like a helping hand with your SEO strategy or have any other digital marketing needs get in touch today! We're more than happy to help.
FSM.